Cat's a Bear
frank@franksinger.com
Erie, Pennsylvania
Musician Bios
Frank Singer
Composition and Guitar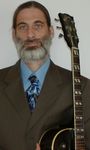 Frank Singer graduated magna cum laude from Berklee College of Music and received that school's Richard Levy Award for Composition in 1980. He has privately studied guitar and piano with Charlie Banacos and performed as featured soloist and sideman with Cab Calloway, Jack Jones, Jackie Eagle, Vanessa Williams, Roger and Roger, George Schwartz (former trumpeter with Artie Shaw), and Eddie Fischer, as well as playing with function bands for over ten years in the Boston area. In addition to guitar, Frank also plays bass guitar, piano, drums, voice and saxophone. A commissioned composer, he teaches music in the Erie area and Online. Frank was also one of three finalists (World Music Category) in the John Lennon Songwriting Contest of 1999. [ Frank Singer Website: www.franksinger.com ]
[ Online Teaching Site: Online Lessons With Frank.com]

Performed with Guest Artists:
Richie Cole, Larry Coryell, Tony Monaco, Claire Daly, Pete Levin, Lew Stelute, Dwight Adams, Eddie Bacchus Jr., Dave Schiavone, Bruce Johnstone, Valerie Gillespie, Bobby Miletello, Joshua Breakstone, Dominick Farinici, Carmen Initore, Cecil Ruckers, Pete Mills, Delano "Vulcano" Choy, Greg Abate, Jay Ashby, Cheryl Hodge, Frank Dibussilo
Joe Dorris
Percussion and Vocals

Joe Dorris , Cat's a Bear's drummer, percussionist and vocalist, formed "The Dorris Brothers Band" in 1970 and performed exclusively in the Erie area. To pursue drum studies with Gary Chafee, he relocated to Boston where he played with such performers as George Schwartz, Dave Zox Trio with Ted Casher, the renowned Senegalese band Ibrahema, and big band shows featuring Cab Calloway, Vanessa Williams and Jackie Eagle, among others. Joe worked in the High Society circuit throughout New England. His recording experience includes performing and arranging for The Editors, Billy Walsh, Willy Eger, Tony James, Sharon DiFranzo, Jake and Jean, Tito and various commercial recording projects.

Performed with Guest Artists:
Jay Ashby, Greg Abate, Claire Daly, Pete Levin, Bobby Miletello, Joshua Breakstone, Larry Coryell, Valerie Gillespie, Sean Jones, Steve Hobbs, John Eckert, Virginia Mayhew, Cheryl Hodge, Frank Dibussilo, Adam Niewood, Rodger Humphries, Joe Harris, Ralph Lalama, Kenny Blake, Pete McCann, Joe Grandison
Joe Frisina
Bass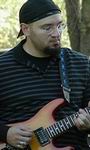 Meadville musician and Cats a Bear Bassist Joe Frisina is also known for his guitar work with Too Big Power, an original rock band featuring Frank Singer on Bass and Jayson Hopkins on Drums. Joe also plays with The Dave Callaghan Trio, performs guitar duets with Frank Singer, as well as Dave Callaghan, and performs with his new classic rock cover band, The Happy Hours. While at Penn State University Joe began his study of jazz performance and improvisation under legendary James Brown saxophonist, Dan Yoder. Joe owns and operates Too Big Studios where he does recordings for radio, TV and local artists. Joe is currently studying guitar with Frank Singer.
[Too Big Power: www.toobigpower.com ]
Tito
Congas and Percussion

The mystical magical mentor, Tito (a.k.a. Nick, Knick) travels far and wide, to and from points unknown. One day he is here, playing his music with Cat's A Bear, and the next he is gone - captured by another vortex and whisked away to new adventures. Is he a secret operative? Or perhaps he's a strange kind of superhero, using his unique musical skills and other special talents to change the world one person at a time. No one really knows. We can only speculate, but one thing is for sure. He plays a mean cowbell!
---
GUESTS of the CATS
The following musicians have appeared with Cat's A Bear.


Phil Papotnik
Saxophone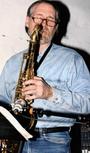 Phil Papotnik plays both soprano and tenor saxophone with Cat's a Bear and is known as one of Erie's premier saxophonists. He is also known as the founder of Erie's Raven Sound. In 1969, Phil and his brother started "Phillippe," a pop-fusion band performing originals. He has appeared with Marty O'Connor and Dave Blates, the Erie Philharmonic, and performed with several of the tri-state rock and jazz bands including Quintessence, J.D. Blues and Tito. Phil has studied with Basil Ronzitti and Carl Adams. [ Visit Phil's Raven Sound website at www.ravensound.com ]

Tony Stefanelli
Bass
Tony Stefanelli, Cat's a Bear's bass player, counts Jimmy Manucci and Basil Ronzitti among his first teachers. He commuted to New York City for several years to pursue studies with Dave Holland after winning a National Endowment for the Arts grant. Tony relocated to Detroit, where he performed with several bands including Johnny "Yard Dog" Jones. Locally, Stefanelli has performed with such bands as Wave, Angel Fire, Quintessence, J.D. Blues and Tito. [ World's best chocolate www.romolochocolates.com ]
Basil Ronzitti
Keyboard

Basil Ronzitti is one of Erie's most respected pianists and teachers, having taught many musical "greats" including famous pianist and author John Novello who has produced albums by Donna Summer and Taste of Honey, and who currently leads the jazz fusion sensation Niacin. As Cat's a Bear's principle keyboard player, Ronzitti spices their compositions with his own style.

Cheryl Hodge
Voice and Piano

Cheryl Hodge pays an occasional visit to the Midwestern Great Lakes Region from the west coast of B.C., Canada. Her incredible vocal stylings and her fluent piano playing bring a unique dimension to Cat's A Bear, as do her original compositions. Her most recent CD, "Strings, Necks and C(h)ords", features original and eclectic jazz. Her first jazz C.D., entitled "Tonight I'm Wearing Basic Black", still receives airplay across Canada and the U.S.. As a graduate of the Berklee College of Music, she taught vocals to such well known performers as Paula Cole, Lavinia Hudson, and Kyle Gordon. Since then, she has recorded her vocals on several labels; including Warner Brothers and Atco Records Raindogs '90 release. She has done hundreds of commercials and several movie releases. [ Visit Cheryl's Jazz Boulevard website at www.jazzboulevard.com ]

---
©2002 - Cat's A Bear | Naked Kitty Productions | frank@franksinger.com